Each gathering, or moot, is different – we often have discussion topics, guest speakers, and some moots will even have craft activities, raffles and more! Old or young (although you do need to be over 18 or with a parent or guardian), experienced or new, or even if you're not quite sure if this is for you, all are welcome to join our Pagans in the Pub, which have been running for over 20 years! Simply bring yourself, some money for a meal and a drink if you like and, most importantly, a positive attitude.
Hobart Moot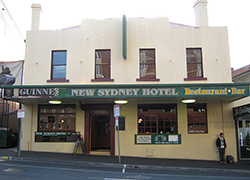 Come together with us on the first Thursday of every month for open discussions, friendly banter and dynamic guest speakers, with an eclectic mob of open minded pagans! Regulars, irregulars and newbies more than welcome.
The New Sydney Hotel prides itself on what all good pubs should be about – great beer, good wine and fantastic pub meals. Proud to be pokie-, TV- and jukebox-free, the New Sydney has welcomed us with open arms for many years. Much to our amusement, the private room the New Sydney donate to us each month is called The Chapel due to its unique roof shape. If you would like to find out more about the New Sydney Hotel, you can check out their website.
When: The first Thursday of every month. Come at 6pm for dinner or 7pm for the meeting.
Where: The New Sydney Hotel. 87 Bathurst Street, Hobart. Upstairs in The Chapel Room.
Who: Lynn Parlett lynnparlett@taspainc.com